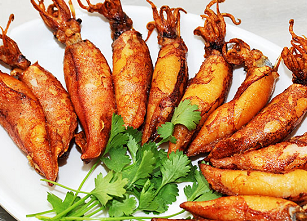 Fried squid fried fish sauce melted
With the delicious, fresh yellow squid absorbed with fish sauce along with the rich spices will stimulate the taste buds of each person in the family's meal. Wish you will make delicious fried squid sauce and have new and interesting meals for your family.
Content is translated using Google Translate, not properly censored, we will try to complete the translation better in the future.
Implementation Steps
01
- Clean ink with dilute salt water. - Minced garlic - Ginger rice shell, crushed
02
- Add 1 teaspoon sugar, 2 tablespoons fish sauce into 1 bowl and then squid for about 15 minutes to absorb ink. - For fried squid (should deep fry). When the ink is ripe, it is removed.
03
- For a little oil in the pan, add minced garlic, until fragrant, add ginger to the island. - Add a little fish sauce mixed with ink and boil for about 3 minutes then add squid to the island continuously. When the ink is even yellow, turn off the heat.