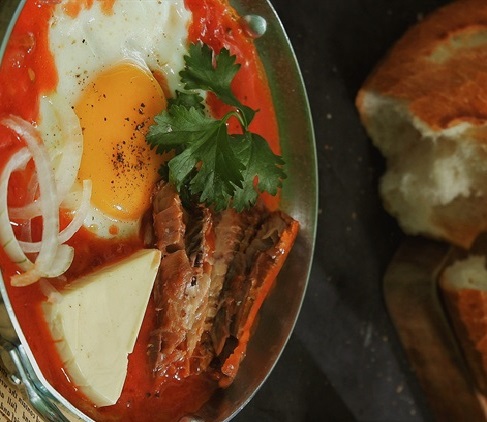 Canned fish bread pan
If you are looking for a quick but delicious breakfast dish, the bread pan is what you are looking for. The material is easy to buy, the time is quick and it is very popular.
Content is translated using Google Translate, not properly censored, we will try to complete the translation better in the future.
Implementation Steps
01
Wash the ingredients you have bought home. Cucumber and tomatoes we cut into thin slices to taste.
02
Boil the pan with regular cooking oil, when the oil is hot, fry the tomatoes with 1/4 cup of cold water until the tomatoes soften to form a thick tomato sauce. Then, you put the canned fish in the pan, when you see the hot canned fish, you can turn off the stove.
03
This step, you turn another pan on the stove, add oil as usual, when you see the oil is quite hot and then you beat a chicken egg into the pan, then take a little compliment of fish sauce is prepared Put in a pan. Now, you add 1/2 cheese to the egg pan, simmer 1 minute, turn off the heat, add a little pepper to create fragrance, display a few more pieces of tomatoes and cucumbers on the pan surface and EAT.