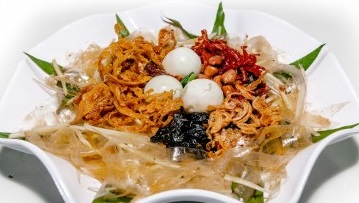 Homemade mixed rice paper
Snacking is always the passion of food and drink. Today, bring the burden of rice paper at home to mix and sit to watch a good movie for the evening. Great.
Content is translated using Google Translate, not properly censored, we will try to complete the translation better in the future.
Implementation Steps
01
Quail eggs you boiled and peeled. Wash your mango into fibers. Washed and chopped vegetables
02
Prepare 1 small cup for 1 tbsp of soy sauce, 1 tbsp of satay, 1 tbsp of sugar, 1 tbsp of vinegar and dissolve the mixture.