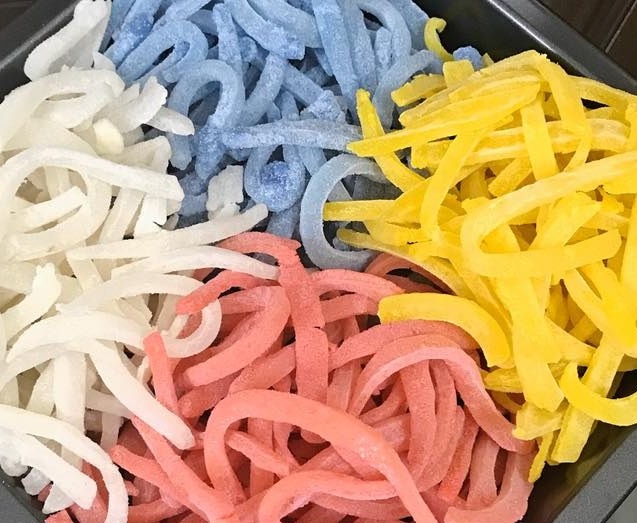 Colorful coconut jam Tet
Sweet for the whole family with traditional coconut jam. Old but never old dishes in the hearts of Vietnamese people. The sweetness of jam makes the mood happy, the spring is more fresh and especially the suitable food for guests.
Content is translated using Google Translate, not properly censored, we will try to complete the translation better in the future.
Implementation Steps
01
You buy copra at the market for convenience. - Remove all the brown layer on the outside, leaving only the beautiful white pulp, penetrating coconut into a sport of squeezed lemon juice so that coconut will not be dark and beautiful. - Cut coconut into shreds by scraping them evenly. When done, you rinse with water several times (usually wash up to 8 times to really clean to limit coconut oil in the pulp)
02
Put all the coconut in a large brass bowl, marinated with 1/2 kg of white sugar, mix the coconut in the sugar and then to taste for about 3 hours. To add color to the coconut, you need to prepare coconut leaves, cocoa powder, and beets to form a natural non-chemical color layer. Divide the coconut into sections and soak it with colored water (each bowl of colored water you add a little vavi powder offline).
03
Prepare a thick base pan, for each piece of coconut soaked in a pan, low heat, stir until there is no more water, coconut fiber has been hunted, add a little condensed milk and continue to stir for about 5 minutes more when the sugar has finished fine then turn off the stove okay, leave the coconut to crystallize.
04
Done, pour all the coconut into a large tray, turn on the fan and use your hands to mix the coconut before the wind to dry as quickly as possible. When seeing that the coconut has been stockpiled, the island still has to wait for another 2 hours to put the coconut on the island. When you see jam can not be stored anymore, you put in the jar or sealed bag to avoid insects. Done. Good luck!