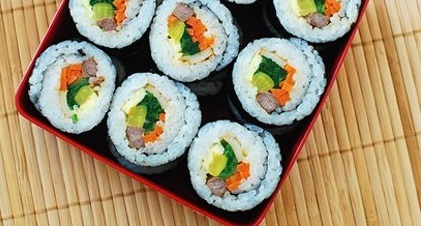 Korean rolls - Korean food at home
Korean dishes are always trusted by Vietnamese food devotees. With strange flavors, Korean food also has eye-catching shapes, bright colors that appeal to the look. Today, we are going to Seoul to avoid the heat with this Rice Roll.
Content is translated using Google Translate, not properly censored, we will try to complete the translation better in the future.
Implementation Steps
02
Prepare 1 hot pan with 3 tablespoons of cooking oil, stir-fry the carrots until the carrots are soft. You need to season with seasoning, pepper, sesame oil to make the carrot more absorbent, then remove the carrots into a plate.Pour 4 eggs into a large bowl, beat the yolks, season with a little salt, pepper, and seasoning seeds. Beat until the mixture is well dissolved. Put the eggs in a thin pan, when the eggs are just cooked, turn around to avoid burning. After the eggs are cooked, place a fork, let cool and then cut
03
You marinate beef with 1/2 teaspoon salt, pepper, 1/2 teaspoon sugar and some sesame oil and minced garlic. Wait 10 minutes for the meat to taste before frying. After the meat has absorbed, put in a frying pan to cook just until the meat is cooked.
04
So, the vegetables, eggs and beef are ready. Now, the rice is ready. Put in hot rice 1/2 teaspoon salt, 1/2 teaspoon pepper, 1/2 teaspoon sugar, 2 teaspoons sesame oil, 2 teaspoons roasted sesame, mix well. The preparation for the rolling ingredients is done. Now, you take the rice for some salt pepper, sesame oil and sugar and mix well. Roll only: - You spread the seaweed pieces on the plane - Put the rice first, spread the seaweed (remember to leave a little at the end). - Add the other ingredients one at a time and wrap tightly until the ingredients run out. - Thai into a bite to eat. Ten, so the whole family get delicious and simple Korean Roll rice is not it. Good luck