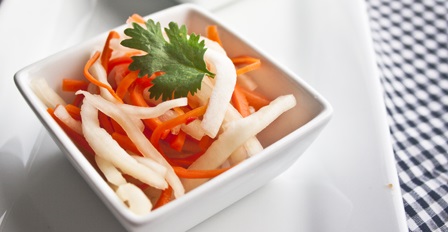 Carrot, sour radish - versatile side dish
Sour food is the most versatile side dish to be used with bread, spring rolls, grilled spring rolls, braised meat, ... as a side dish for the main dish. Just simple ingredients but processed into a perfect side dish for the family.
Content is translated using Google Translate, not properly censored, we will try to complete the translation better in the future.
Implementation Steps
02
Soak the carrots and white radish in 1 tablespoon of salt water, mix well and soak for about 30 minutes. You can bend carrot and turnip when the fiber is bendable