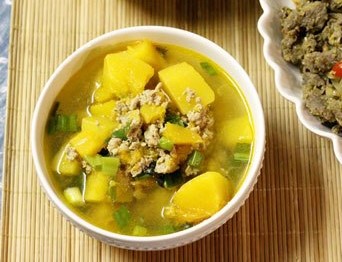 Pumpkin soup with minced meat for children
A nutritious pumpkin soup for your children is a must-have menu for every week.
Content is translated using Google Translate, not properly censored, we will try to complete the translation better in the future.
Implementation Steps
01
- Pumpkin peeled, finely chopped - Chopped green onion - Minced meat with some pepper, sugar, seasoning and salt for about 15 minutes for meat to taste
02
- Prepare the pot, add 1 tbsp of oil to the aromatic purple onion pot, stir fry the meat. - Put 3 cups cold water in a pot, bring to a boil, then drop the pumpkins. - When the pumpkin is soft, season it again and add the green onions
03
If you cook for 2 more minutes, turn off the heat. This dish is good for baby and helps you eat quickly. This is also a soup for family meals.