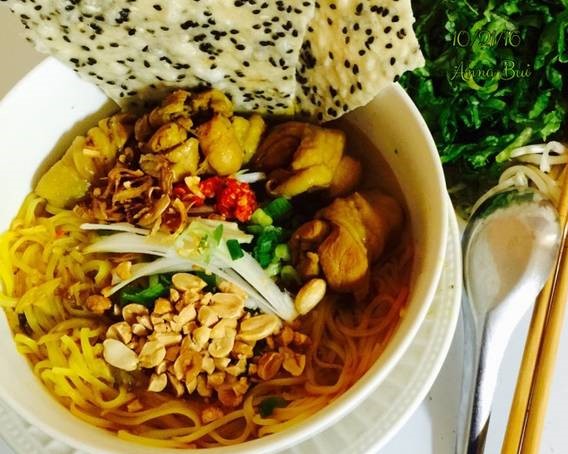 Quang chicken noodles in Quang
Central cuisine today will come to your kitchen with Quang Chicken Noodles. This dish is an important part of the broth, just we follow the recipe will create a bowl of delicious noodles like the restaurant at your beloved home.
Content is translated using Google Translate, not properly censored, we will try to complete the translation better in the future.
Implementation Steps
01
Chicken washed, cut into small pieces to taste and then marinated with 1 spoon of chopped shallots, 1 spoon of minced garlic, 2 tablespoons of fish sauce, 1/2 teaspoon turmeric powder, 1 spoon of seasoning seeds, less chili powder, pepper, sugar and oyster sauce about 25 minutes before making.
02
- Onion washed, peeled, sliced. - Peeled peanuts. - Chopped green onion
04
- Boiled, peeled chicken eggs. - Prepare a little pan with oil, when the oil is hot, mince the garlic, then fragrant, add the chicken until about 5 minutes. Pour 4 cups of water into the wedge again with 1/2 teaspoon of flour, 1 spoon of seasoning seeds, 1 spoon of salt, 1/2 pepper, low sugar, 2 tablespoons fish sauce. Heat for another 20 minutes
05
Put Quang noodles in a bowl and add some chicken water. Served with rice cake will make Quang noodles more delicious. Good luck