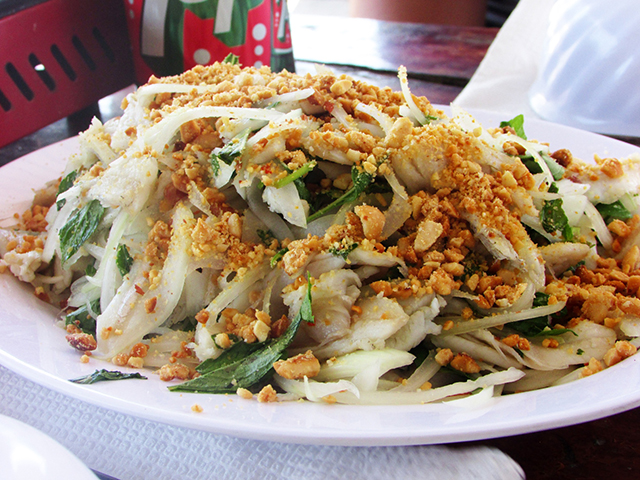 Salad with shellfish
The sweet and sour taste of chili blended with the aroma of vegetables and fish will make you unforgettable
Content is translated using Google Translate, not properly censored, we will try to complete the translation better in the future.
Implementation Steps
01
Put about 30 grams of ripe tamarind and 30 ml of boiling water in a cup, use a light spoon to make tamarind juice. Use a sieve to get the tamarind juice. For 1/2 tsp minced chili + 1/2 tsp minced garlic + 1 tbsp fish sauce + 1 tbsp finely ground peanuts + 1 tbsp sugar + 1/4 tsp monosodium glutamate + water tamarind juice in the cup. Mix the mixture well to make a dipping sauce.
02
Washed cucumber slices long to taste. Can eat some vegetables as you like
03
Mai fish bought to wash, scrape off the tail. Then snakehead fish removed the bone. Put the fish in a bowl of lemon juice and mix well to cook the meat. Scrape ginger skin, rinse. Slice the ginger into thin strips. Peel the onions, cut into thin slices. Remove old leaves of lemongrass, thinly slice. Arrange the fish on the plate, put ginger, onion, lemongrass on top. Sprinkle on peanuts and fried onions.