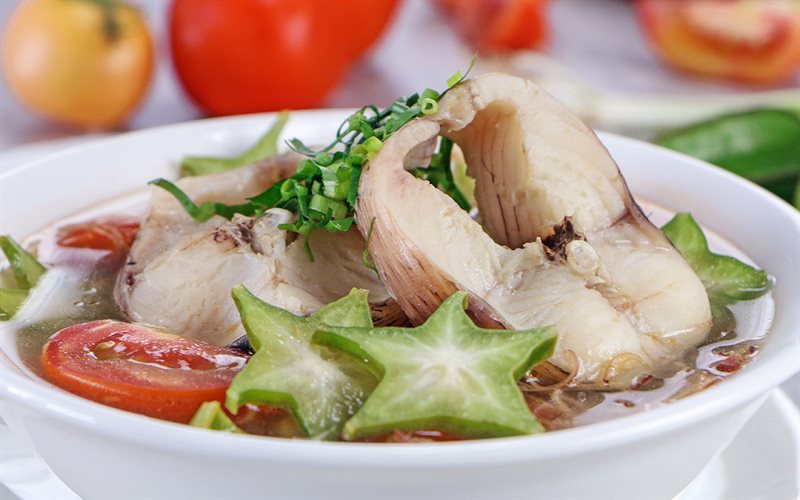 Snakehead fish sour soup
Hot summer, the snakehead fish sour soup cool bar will be a simple dish that is very attractive.
Content is translated using Google Translate, not properly censored, we will try to complete the translation better in the future.
Ingredients
A snakehead fish
700 gram
Implementation Steps
01
Dried onions, garlic: cleaned, minced. Snakehead fish: clean, sliced to taste, lightly sliced on each slice to absorb fish seasoning. Marinate fish with 1/2 tsp minced garlic onion, 1 tsp seasoning, 1/2 tsp fish sauce, 1/2 tsp MSG, 1/2 tsp cooking oil, 1/2 tsp Pepper pepper for about 15-20 minutes. Pineapple, okra: clean, sliced long slanted. Tomatoes: add areca. Vertical mosquito net: Peel the skin, cut thinly, squeeze through with a little salt, rinse, blanch gently with boiling water, drain. Price washed, to separate.
02
Non-aromatic 1 teaspoon minced garlic onion with cooking oil, add 1/2 teaspoon paprika to color. Add the fish to the island lightly and add water to the soup, add sour and aromatic tamarind water, you can add your own bone broth to make it more sweet.
03
When the water boils, use the racket to remove the top foam so the broth is clear. Boiling water for about 3 minutes, the fish is about to ripen, put tomatoes, okra, along the mosquito net, the price. Add 1/4 teaspoon salt, 1/2 teaspoon sugar, 1 teaspoon seasoning powder, 1/2 teaspoon MSG to taste.When the soup is ready, turn off the heat. Add the green onions, coriander and pepper, stir well and scoop out.