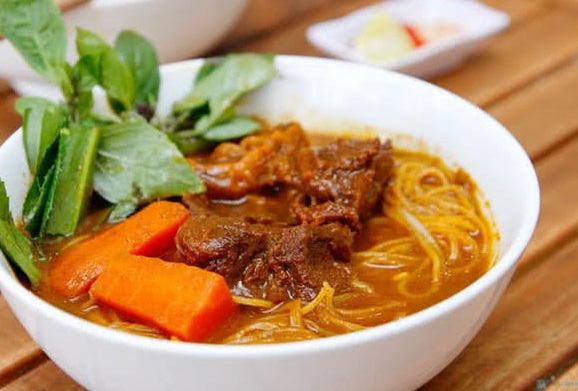 Beef noodles with braised beef noodles - warm breakfast
On the weekend, spend some morning time to prepare the whole family of Beef Noodle Soup with full of nutrition, belly.
Content is translated using Google Translate, not properly censored, we will try to complete the translation better in the future.
Implementation Steps
01
Prepare raw materials Beef you buy and wash, cut into square pieces, put in a large bowl of wedge with a mixture of spices including 1 spoon of soy sauce, 1 spoon of beef stock, 1 spoon of seasoning, 1 tbsp sugar and 1 tbsp fish sauce. Mix well for about 30 minutes to flavor the beef. Onion washed, peeled, split pieces and sliced into 2-3 slices. Carrots can be peeled and cut into cubes or cut like meat stew. Lemongrass beating and slicing into medium. Garlic is minced. Chili, washed and chopped scallions. Ginger scrapes the outer skin and shreds it into fibers.
02
Prepare 1 large pot. Turn on the high heat, add 2 tablespoons of oil to the pot, when the oil is hot, add the minced garlic until it bounces until it smells good. Then, you turn the lemongrass, ginger and beef were absorbed into the stirring hands.
03
Dissolve 1 tablespoon of tapioca flour with a little stirring water to dissolve and slowly prepare into the beef pot. Then season again to taste and cook until boiling again, turn off the heat. You put the prepared coconut juice in well, still simmer. Add a little water to 2 tablespoons of flour, beat until dissolved. Then add the starch of water to the meat pot. Stir to dissolve the water and the water in the pot until it is thickened. You taste it again with the spice again. When you have just mouthed, turn off the stove, prepare a bowl for the whole family to enjoy.