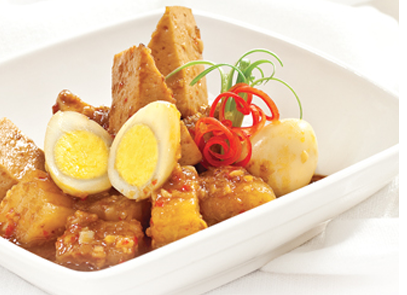 Chinese meat stock - Tet dishes bold home
New Year's Day must have 1 pot of Chinese meat stock is New Year. In the past, this Tet is still the same, the kitchen has an aromatic meat pot to show the warmth, affluence and fullness for the whole family a new year full of fortune.
Content is translated using Google Translate, not properly censored, we will try to complete the translation better in the future.
Implementation Steps
02
In a pot, add 2 tablespoons of oil to the pork and stir-fry for hunting meat, add garlic and cup of soy sauce prepared above into the pot. Bring the pot to a boil, reduce the heat to low, and cook for another 25 minutes.
03
Boil 3 eggs then peel. Put chicken eggs in the meat pot, add pepper and mix well again, cook for the last 15 minutes then turn off the heat.
04
So our pot of meat stock is done. If you want to change the taste, you should change the way your regular warehouse with soy sauce according to your recipe, make sure your rice cooker will be completely empty at any time. Turn off the stove, cooked meat and then give a bowl to prepare a New Year's meal with the whole family. The Chinese meat stock is served with hot, delicious, warm white rice to soothe the cold winter out there