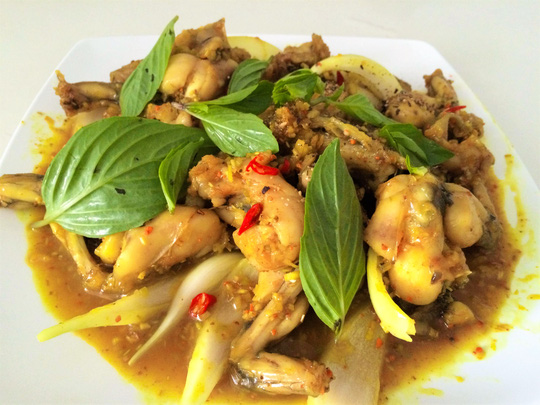 Fried frog
Stir-fried frog with chilli and lemongrass has a firm layer of meat but is also very soft and sweet.
Content is translated using Google Translate, not properly censored, we will try to complete the translation better in the future.
Ingredients
Seasoning powder
1 teaspoon
Implementation Steps
01
Rinse and peel frog skin, peel black veins and rinse thoroughly with diluted salt water, rinse with clean water, drain and bring tightly to bite-sized pieces. If the thigh is big, cut out small to fit. Wash lemongrass and fresh chili. Mince the base of lemongrass with fresh chili.
02
Turn on the stove, wait for the pan to heat, add 1 tbsp of cooking oil, cover the pan evenly. When old hot oil (bubbling oil), add garlic, chili, ginger, lemongrass to fragrant. Let the frog use the chopsticks to stir quickly, see the hunted frog, add a little seasoning powder, fish sauce and add some color water to make the fried frog with lemongrass chili more attractive.
02
Cover the lid and wait for a little longer is the cooked frog meat (about 5-7 minutes), seasoning again to taste, suitable for family tastes to eat with rice.