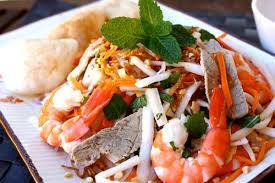 Lotus root salad with shrimp
Lotus salad with meat and shrimp served with shrimp chips and garlic sauce, delicious chili garlic. This dish is just enough protein, fiber is light on the stomach, good for digestion.
Content is translated using Google Translate, not properly censored, we will try to complete the translation better in the future.
Implementation Steps
01
Laksa leaves, spring onions, shredded chilli, lemons, and roasted peanuts Split lotus root, cut Hoa 100ml vinegar + 200g sugar, beat.
02
Soak lotus in sugar and vinegar mixture, then put in refrigerator cooler. After an hour, remove the lotus root from the mixture, squeeze it gently to drain. Wash the pork. Boil the meat with some salt, thinly sliced ginger. When the meat is done, put the meat in a bowl of ice water to make the meat crispy. When the meat is cool, cut the meat into fibers of a length commensurate with the lotus stem. Wash the shrimp. Steam the shrimp with a little ginger for about 5 minutes. When shrimp cooked, put shrimp in a bowl of ice. When shrimp cool, peeled, split shrimp body Peeled carrots, washed, chopped Chopped laksa leaves, washed, sliced to taste. Roasted peanuts, peeled, smashed. Peeling shallot, thin cell. Heat oil pan, add onion and onion. Split the peppers into two pieces, remove the seeds inside, slice them into thin strips. Squeeze the lemon to get the juice (strain the seeds). Turn to see lotus, carrot, laksa leaves, fried onion, chili fiber in a bowl. Add 1/2 tbsp of fish sauce, 1 tbsp of sugar, lemon juice, mix well. Put the mixed salad on a plate, put pork, shrimp, peanuts, laksa leaves on top. This dish is served with sweet and sour fish sauce and shrimp chips or baked rice paper.