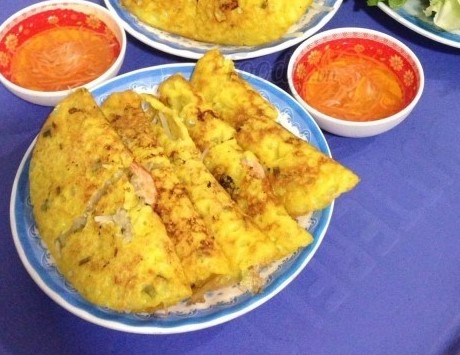 Loving cake Central taste
Pancakes dish is no stranger to people anymore. But to make a small Central pancake, but the taste is not small, it must be carefully formulated. Today, VN Cooking will share the recipe to make the best crispy pancakes.
Content is translated using Google Translate, not properly censored, we will try to complete the translation better in the future.
Implementation Steps
01
CAKE POWDER - For rice flour, low salt with turmeric powder, 2 cups cold water, 1/3 can of beer, 1/2 cup coconut milk stirring the mixture - Chopped green onion for some flour wait about 45 minutes
02
RAW MATERIALS - Thinly sliced pork, marinated with 1/3 teaspoon of salt, minced garlic, minced ginger, pepper and some cooking oil. - Ton beard removed, marinated with a little spice - Sliced onions - Washed bean sprouts
03
PORK CHICKEN - Put the pan on the stove, when the oil is hot, sauté the onions with shrimp and a little seasoning. - When cooked shrimp are sliced, stir-fried pork in the same, when the meat hunting again, turn off the heat
04
DRIED CAKE - Prepare cake pan, when the oil is heated forehead a thin layer of flour around the pan, cover for about 30 seconds - Put the filling in the middle of the cake, add the rack and onions, cover for about 2 minutes. - Open the lid, fold the bread in half, wait until it is browned, turn it over and take it out
05
PHAM DOT WATER - Red chili and tomato seeds for pureing - Mix 2 teaspoons of sugar, 5 tablespoons of water, 1.5 tablespoons of fish sauce and cook until the sugar is melted. Add a little sour tamarind juice - Stir the mixture of pureed tomatoes and stir