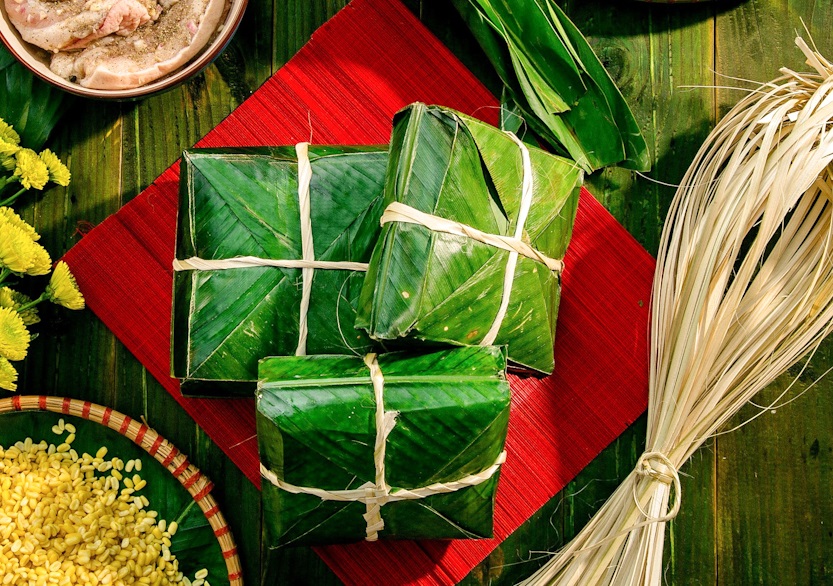 Vietnamese traditional banh chung
Vietnamese New Year's Day is always the best when there are saucers in the family's rice dumplings filled with the flavor of the homeland from ancient times to the present. The whole family sat next to each other, finished the cakes through the stages, cooked the stove, ... all creating a traditional Tet atmosphere of our Vietnamese people.
Content is translated using Google Translate, not properly censored, we will try to complete the translation better in the future.
Implementation Steps
01
- Glutinous rice bought clean, you need to soak in water before cooking 1 night to make sticky soft. In the morning, drain and mix 2 tablespoons of salt and sticky rice. - Far beans are soaked for 1 hour before making them soft and smooth. Then you steam the beans, use the blender to grind the cooked beans with 1 teaspoon of salt, then turn off the heat, divide the beans into 2 parts, vo. - Banana leaves you should buy the type of seller has been segmented available for easy implementation, wipe before wrapping.
02
Bacon selects delicious meat to taste. - Rinse, cut meat into pieces about 5cm long, 1cm thick is medium. - Add 1 teaspoon salt, 2 tablespoons of ddefu pepper to taste meat.
05
Prepare to cook. At the bottom of the pot, you should put a few banana leaves below. Put the banh chung in the pot, pour the water into the pan and submerge the cake. Turn on the large heat to quickly boil water, when the water has boiled you turn on the small light again continue to boil for about 8 hours (remember to boil the pot to add water when the water is about to run out). When the bread is done, take it out and drain it and prepare it for ancestral worship.