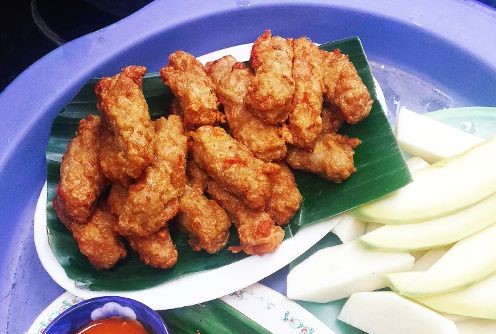 Northern fried spring rolls
Today, VN Cooking will share how to make Northern fried spring rolls for you. This spring rolls is a very popular street food in the capital and surrounding provinces, from children to adults, this is a popular dish and also a regional specialty. Try making this special dish at home today!
Content is translated using Google Translate, not properly censored, we will try to complete the translation better in the future.
Ingredients
Apple cider vinegar
1 spoon
Implementation Steps
01
Minced meat into a wedge bowl with a spoon of seasoning seeds, sugar, fish sauce and tapioca flour and mix well to flavor the meat. You wrap the food wrap tightly and place in the freezer for about 60 minutes before doing. When the meat has been in the freezer for 60 minutes, take the meat and grind it again (you can also use an electric mixer) and continue to put in the freezer for another 60 minutes.
02
When you buy pork skin, shave and wash thoroughly with salt water. Bring boiled pork skin, wait to cool and then slice
03
Take minced meat and grind for the second time, then mix minced meat, pork and shredded pork skin together. Mix the meat mixture well, vo into small round balls or long depending on taste.
04
Chicken eggs are peeled and then dissolved in a cup. The meatballs in turn are rolled out: crispy batter, egg, fried dough. Then bring fried (low heat). When you see the yellow nem is beautiful, take it out.