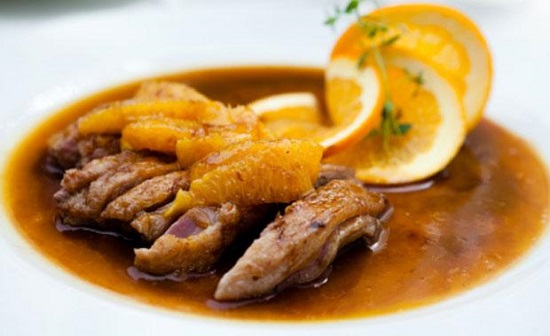 orange cooked duck
Orange duck dish with exotic aroma, sweet and sour taste extremely attractive. In particular, the fragrant duck sauce with orange smell, yellow match, duck meat absorbed with spices will help your family have those delicious meals. Let's embark on how to make delicious orange duck cook.
Content is translated using Google Translate, not properly censored, we will try to complete the translation better in the future.
Implementation Steps
01
First of all, how to make an orange-cooked duck, put the saucepan on the stove, add the cooking oil to the old heat, then fry the duck in a little heat for the yellow duck, aroma, pick the duck out with oil absorbent paper and chop into pieces to fit eat.
02
Next, you put in a large bowl of duck meat, 2 teaspoons of main noodles, 1 teaspoon of salt, 2 teaspoons of fish sauce, 1 teaspoon of ground pepper, sliced chili, sugar and then mix well and marinate for about 30 minutes for meat duck infused with spices. Doing so makes the deliciously cooked orange duck more flavorful.
04
In a new pot of onions, chopped dry garlic, lightly fried duck meat, then pour water over the duck face and then boil over high heat. When the water in the duck meat is boiling, reduce the heat and simmer tenderly.
05
When the duck meat is tender, add orange peel, sugar, orange juice, 3 tablespoons of coconut milk, flour mixture, and season to taste. Continue to cook the duck until the duck sauce is thick and viscous, then cook all.
06
Finally, scoop the duck and cook it into a deep plate and sprinkle coriander, pepper, a few slices of orange on top to decorate the way to make the orange duck more delicious, more beautiful, and enjoy it.