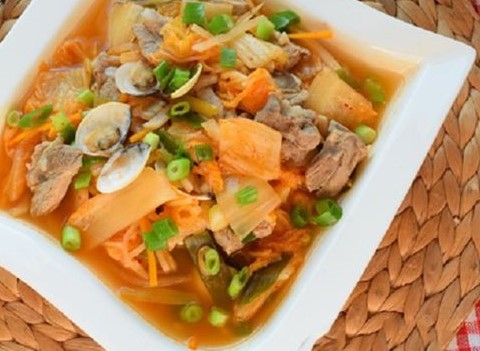 Pork rib soup cooked with kimchi
This Korean Soup is loved by the spicy kimchi and sweet ribs. This dish is great to eat with steamed rice
Content is translated using Google Translate, not properly censored, we will try to complete the translation better in the future.
Implementation Steps
01
- Ribs washed and chopped into bite-sized chunks, boiled for 2-3 minutes, then remove the water. - Marinate the ribs with a little seasoning, sugar, salt for about 10 minutes
02
- Ginger peeled, finely chopped - Minced garlic - Shredded onion
03
- Prepare 1 pot for garlic and ginger in Africa, stir-fry the ribs into the sauce with fish sauce. Then add a medium amount of water to the pot. - When the ribs are soft, add kimchi. - For 2 minutes, add shallots and onion. Season and turn off the heat. This kimchi rib soup is very simple. Suitable for people who like spicy food or Korean food.