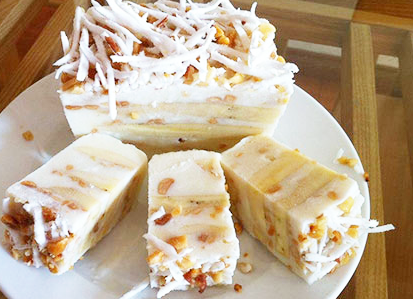 Traditional banana cream
When I was a child, every time the ice cream cars jingled, the whole village children rushed to the village road, circling the small car with an ice cream container at the back. 3 thousand dong for an ice cream made the eyes of the child bright, smiling all day.
Content is translated using Google Translate, not properly censored, we will try to complete the translation better in the future.
Implementation Steps
01
- Put into a bowl of 2 teaspoons of sugar, 1/3 teaspoon of salt, vanilla tube, coconut milk, tapioca, 2 cups of coconut milk paste into a melting pot.
02
- When you see the pot of coconut milk has thickened, turn off the stove
03
- Use a scalpel to cut a line inside the inner plastic bag. - Add a banana and then squash the banana - Chan a little coconut water on 2 surfaces and then add some peanuts to beat, grated coconut on the surface