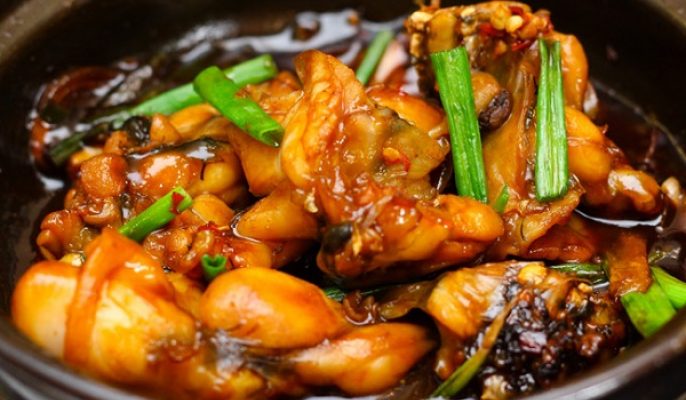 Braised frog
The braised frog with a strong taste of the countryside, can be used hot with rice, a piece of frog meat mixed with a thick and thick sauce, will definitely make your home meal a lot more attractive.
Content is translated using Google Translate, not properly censored, we will try to complete the translation better in the future.
Implementation Steps
01
Onion, peeled garlic and minced really well. Buy frogs, rinse with water and chop into bite-sized pieces. Then you give 1 tbsp of fish sauce, 1 tbsp of seasoning seeds, 1 tbsp of sugar, 1 tbsp of chili sauce, add 1 nửa2 tbsp of pepper and add 2 tbsp of cooking oil to marinate frog meat and leave for about 30 minutes to meat frogs absorb all the spices. During the time of marinating frog, you sometimes use chopsticks to stir the seasonings to absorb into each piece of meat when eating the dish will be more delicious and tasty.
02
Put 2 tablespoons of cooking oil in a pan and heat the minced garlic onion into the non-aromatic pan and add some chili powder to make the color more attractive. Then, add the marinated frog meat in a pan and stir fry well over medium heat. Stir fry until frog hunts back and then turn off the heat.
03
Next, you get a soil bowl for the fried frog meat in the pan, then put the whole chili in the soil bowl. Depending on the taste of the family, you add chili and you add some cranberry pepper into the soil and then add water to catch the stove to boil with a small flame. Boil for about 30 minutes when you see the color of the dish with the color of cockroach wings, the thick paste, your braised frog dish is completed.