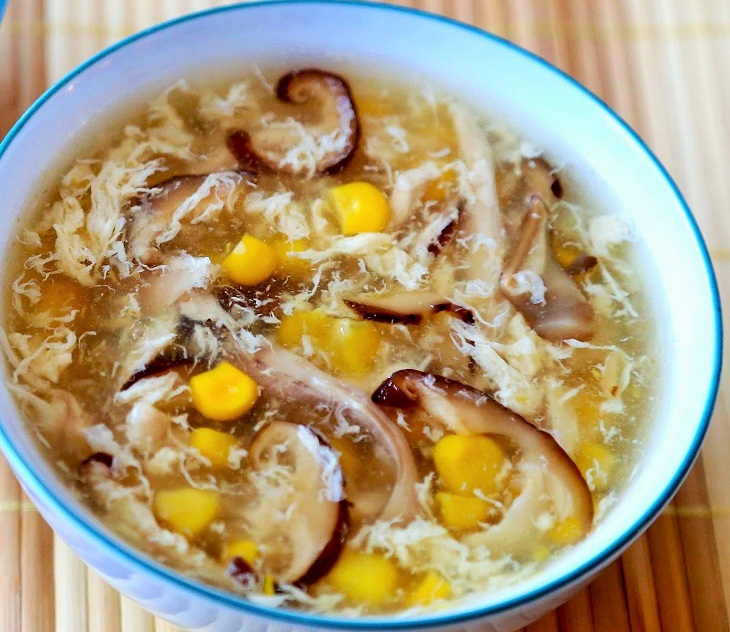 Chicken soup
A nutritious dish easy to digest
Content is translated using Google Translate, not properly censored, we will try to complete the translation better in the future.
Ingredients
Hành lá và ngò rí
1 mớ nhỏ
Implementation Steps
01
Shiitake mushrooms cut legs, soaked in hot water for about 20 minutes to bloom. Then take out, wash thoroughly with cold water and then chopped, cut separately. US corn separates the seeds, removes the core. Wash the corn kernels thoroughly and drain. Chicken eggs are broken and separate egg yolks and egg whites, separately. Instant flour dissolve with 1 cup of boiling water to cool, stir hands to dissolve the powder completely
04
For non-stick pan on the stove, wait for the pan to heat, then add 2 tablespoons of sesame oil, evenly pan. When the oil is hot, add 2 tablespoons of finely chopped shallots to make it fragrant. When you see the onion shrivel and aroma, add the shredded chicken and shiitake mushrooms. Season with 1 teaspoon of seasoning, 1 teaspoon of sugar and 1/2 teaspoon of salt, stir well until chicken and mushrooms are infused with spices.
05
For the pot of boiled corn water just now on the kitchen, add 1 teaspoon of salt, 1 teaspoon of seasoning seeds and 1 teaspoon of sugar, stir well to dissolve the seasoning. Bring the water to a boil again. When the water has boiled again, slowly add the cup of water mixed with flour, stirring thoroughly. Next, you slowly pour the egg white into the pot of soup, stirring steadily to make the whites melt, forming small strands. Then, cook the corn, chicken and shiitake mushrooms.