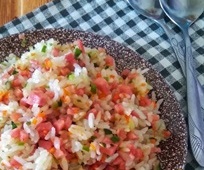 Convenient roasted Jambon rice
If you take advantage of the cold rice that is always redundant with every meal, you can also make it a convenient dish for the whole family. Let's make Jambon fried rice with VN Cooking. Let's go.
Content is translated using Google Translate, not properly censored, we will try to complete the translation better in the future.
Implementation Steps
01
When you buy raw materials, you wash everything. With carrots, peel the skin as usual and dice. Chopped green onion, jambon, when you buy about cutting into thin pieces then diced like carrots.
02
Cold rice you should grind into particles for your rice dish to be absorbed evenly. Boil the pan with a moderate amount of cooking oil. Once the oil has started to heat, add the carrots to the island with your hands, then cool the meat. Still stirring hands for about 5 minutes, you add the rice and scallions into the pan.
03
Once the rice and ingredients are in harmony, add the seasoning to your taste. Finally, when preparing to turn off the heat, add salt and pepper to the pan for the last time and then turn off the heat. Now, arrange a plate for the whole family. Simple fried rice dishes can be prepared for rushed breakfast of the whole family or into lunch boxes to bring at the company.