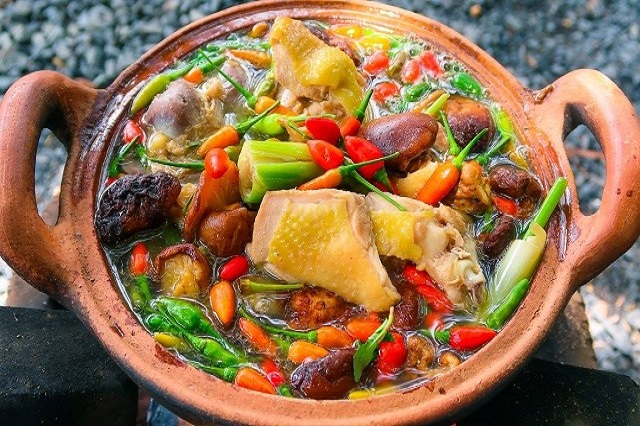 Pot hot chicken with chilli
Chili chicken with a chicken broth cooked with vegetables, mushrooms and chilli is a delicious and attractive dish for cold days.
Content is translated using Google Translate, not properly censored, we will try to complete the translation better in the future.
Ingredients
Bird's eye chili
50 fruit
Implementation Steps
01
Clean chicken, cut into bite size pieces. Marinate chicken with 1 tbsp of shallots and minced garlic, 1 tbsp of seasoning seeds, leave for 15-20 minutes for chicken to infuse spices.
02
Onion peeled, cut areca zone, drain. Lemongrass washed, smashed. then put the oil in a hot pan, fry the onions and remove them. Next to lemongrass to fragrant fried. Marinated chicken is fried and hunted for gold.
03
Hot pepper flakes smashing (not to be broken). Prince clean. Boiled shiitake mushroom, cut legs, wash. Radish washed, peeled, cut about 1cm. Raw vegetables washed, drained. Boil 500ml of fresh coconut water with 1 liter of water. Add chicken, lemongrass and chili to cook, season with 1 spoon of seasoning, 1 spoon of soy sauce, let the heat simmer and cover.