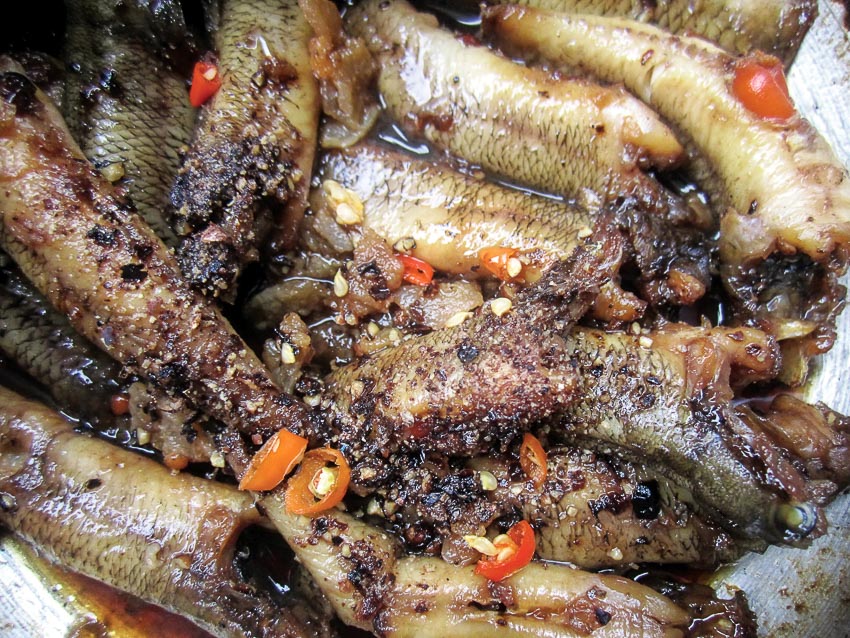 Star fish with pepper
Spicy goby pepper is rich in aromatic aroma of spices, with a little spicy numbness of the tongue of pepper and chili horn served with steamed white rice.
Content is translated using Google Translate, not properly censored, we will try to complete the translation better in the future.
Implementation Steps
02
Then, marinate the fish with 1.5 tbsp of sugar and let stand for 30 minutes. After the fish has absorbed the sugar, you add 2 tablespoons of fish sauce + 1.5 tablespoons of seasoning seeds + 1 spoon of MSG + 1 teaspoon of pepper, mix cashew nuts
03
Dry onions, minced garlic. With scallions, coriander then picked and washed, finely chopped scallions, the first piece of onion cut 3cm, split into 4, coriander cut into pieces of 3 cm.
04
You fry the pan and add some cooking oil, wait for the oil to boil, garlic onion and 1 tbsp of paprika to cook until fragrant, turn off the heat to cool. Put the clay pot on the stove, add 1.5 tbsp of sugar and turn on a simmer until the sugar dissolves, add about 1 cup of water, heat until boiling, then turn off the heat to cool completely.
05
At this time, you just put goby, horn chili, pepper and even the garlic onion earlier into the pot. You can gently shake the pot to allow all the fish to absorb the seasoning. You just let medium heat until the pot of fish boil, then lower the heat to simmer, you leave it for about 30-40 minutes to glue the fish meat. When you see the fish stock has a nice brown color of cockroach wings, cooked goby is fine. Sprinkle some ground pepper according to your taste