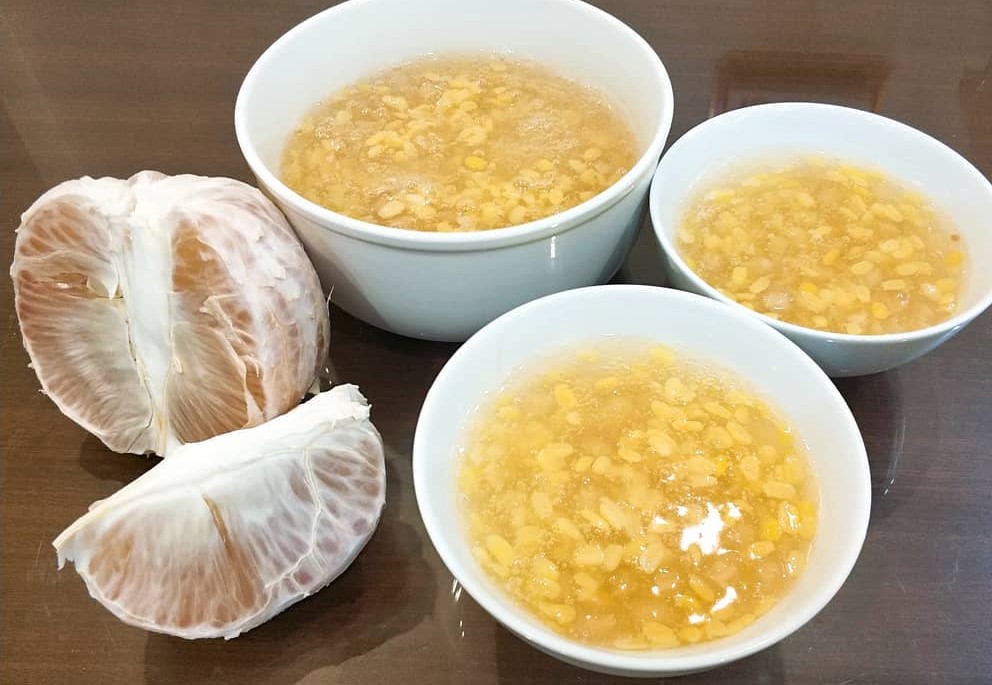 Che grapefruit Vinh Long
The grapefruit tea in Vinh Long has a very good taste, the taste of grapefruit along with the fatty taste of coconut milk makes people satisfied when dessert
Content is translated using Google Translate, not properly censored, we will try to complete the translation better in the future.
Implementation Steps
01
- Grapefruit cut clean, peel off the green skin - Take the white pulp inside the grapefruit
02
- Cut white pulp into pomegranate seeds, soak white pulp in cold water and salt for 30 minutes
03
- Take out the pulp and put in cold water, then squeeze dry, drain (do so about 5-7 times to eliminate bitter taste) - Prepare a pot of tea, put 2 cups of cold water and 20 grams of rock sugar, boil. When the water boils to fill the contents, remove and squeeze out to drain.
04
- You add 100 grams of white sugar to the pulp, 1 tablespoon of boiling water, mix well to dissolve sugar into the grapefruit. - Put copra in anti-nutritional pan, roast lightly with low heat. When the pulp dried, turn off the heat
05
- Put 150 grams of tapioca flour into grapefruit, mix several times to allow the pulp to absorb
06
- Put the pot of water on the stove, boiling water to add pulp to a low heat. When the pulp emerges, the water is ripe, take out to cool water for a brittle, more delicious
07
- Mix 1 bowl of sugar water (150ml boiling water and 100 grams of white sugar) for grapefruit to soak
08
- Cook green beans with 300 ml of water, remove the foam when the pot is boiling. - Lower heat, stew for soft beans about 7 minutes, then add 200 grams of white sugar, 1/2 teaspoon salt stir and cook for another 7 minutes
09
- Add a little tapioca starch dissolved in water and slowly add the part of tapioca starch to the pot of tea (stirring hands)