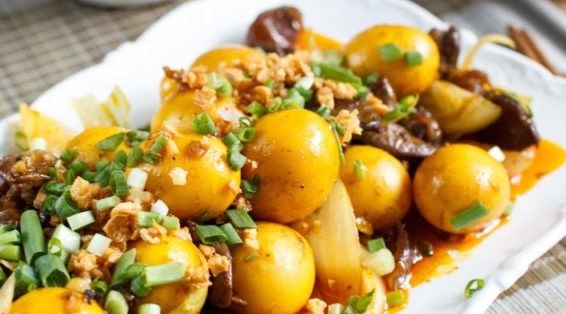 Fried chicken heart with young eggs
Great chicken hearts are now fried with young eggs, adding to the deliciousness of the dish. Today, VN Cooking will guide you to make this dish for your whole family to enjoy
Content is translated using Google Translate, not properly censored, we will try to complete the translation better in the future.
Implementation Steps
01
- Chicken heart washed with diluted salt water - Young chicken eggs washed - Garlic finely chopped - Shredded minced onion - Chopped green onion
02
- Put a pot of water on the stove, add a little salt when boiling, then boil the chicken heart and boil it in a bowl.
03
- Put the pan on the stove, when the oil is hot and garlic is fragrant, add the young eggs to the island. When the oyster and hot garlic eggs are released. - Add the garlic to the Africa, add the onions, stir the chicken hearts on the island. When the chicken is cooked, season it again and pour the young chicken eggs and stir fry together.