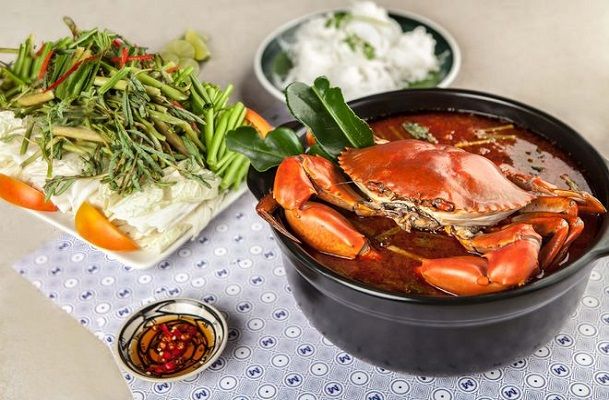 Hot and Sour Crab Crab Hotpot
Spicy and sour crab hotpot with fatty aromatic crab meat, rich sweet hotpot soup mixed with sourness stimulates the taste will make you addicted on the first taste. Just describing it sounds appealing, isn't it! And you know, how to cook spicy crab hotpot is not so difficult. So you can confidently cook hot pot at home!
Content is translated using Google Translate, not properly censored, we will try to complete the translation better in the future.
Ingredients
Dried Shredded Squid
100 gram
Golden Needle Mushroom
100 gram
Chrysanthemum leave
1 roll
Implementation Steps
01
Preparing crabs - In the way to cook hot and sour crab hotpot, selecting and preliminary processing of crabs is very important. When choosing crab hot pot, you should choose the kind of brick crab that will be better than the meat crab. Especially buying crabs in prestigious locations to ensure the best quality. - After buying crabs, soak and wash them. Next, separate the crab shell, take the crab bricks to a separate cup and then chop the crabs in half. The crab meat you wash once more with water to clean offline!
02
Pork bones bought, you wash with cold water mixed with a little salt, then you cut and blanch through boiling water to clean. - Then, you put the bones in the pot with 3-4 liters of water and start the tunnel for about 2 hours for the bone to release fresh water. - After the stew, you take out the bone to make a separate pot, and the hotpot broth continues to season with a little more salt, MSG, grilled shallots for fragrant hotpot.
03
- Dried shrimps and dried squid, you soak in warm water for about 15 minutes to soften, wash thoroughly, dried squid tear into fine fibers, and dried shrimps leave. Using dried shrimp and dried squid will give crab hotpot soup a rich sweetness. This is the secret of the hot and sour crab hotpot cooking that we want to share with you. - Straw mushrooms, cut legs, wash, put in a basket to drain. Enoki mushrooms cut the stem, soak it in dilute salt water and rinse it again to drain. - Onions peeled and cut areca zone, tomatoes also washed and cut areca zone. Shallots and dried garlic are also peeled and minced. Chilli washed, removed and crushed. - Cauliflower split into small branches, soaked in salt water for about 1 minute and then picked out, washed, drained. - Morning glory, spinach, chrysanthemum picked up leaves deep, damaged, soaked with dilute salt water and washed, drained.
04
To make the dish taste the best, how to make hot and sour sea crab hotpot soup is the following secret for you. Follow these steps: - When the prepared crab is drained, you marinate with: 1 tbsp of minced onion, 1 tbsp of minced garlic, 1 teaspoon of salt, 1/2 tbsp of sugar, 1 / 2 teaspoons of ground pepper and stir well, about 30 minutes for the crab to infuse spices. - Then, you north the pan to the kitchen, put in 2 tablespoons of cooking oil, hot oil, you add onion, minced garlic into the aromatic. Next, you pour the crab bricks into the stir-fry and then dry squid, fried shrimp to stir-fry until these ingredients are cooked, put them all in a pot of broth. Mushrooms, you do the same thing with crab bricks. - Put the pot of hotpot water on the stove, bring to a boil. Boiling water, then let the crabs cook. Ripe crab, you continue to cook tomatoes, onions to cook together. Tomatoes are the ingredients that make your crab hotpot soup naturally sour. Then, you add a little more satay and chili pounded to create a spicy flavor for the dish. At this time, you only need to taste salt, sugar, MSG, seeds to make the broth fit.
05
- The soup is finished, you put fresh noodles on a plate, spinach, spinach, chrysanthemum and put them into a basket or put on a large plate to look good. Preparing to add a cup of salt and lime pepper to make crab dots is perfect. - Put the hot pot on the mini gas stove or hot pot kitchen, boiling water, then take the crab meat out a separate plate and turn the enoki mushrooms and hotpot vegetables into the pot. Now, just wait for the vegetables to ripen and enjoy. So, Cet.edu.vn has shown you how to cook delicious hot and sour crab hotpot. With the secret that we share, hope that you will successfully process this delicious dish to entertain your family and friends!