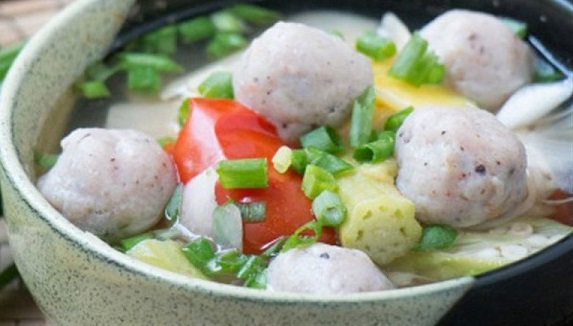 Spicy and sour fish ball soup
Spicy fish ball soup for busy days. Just spend 30 minutes to get the side dish without eating out. Spicy and sour fish soup will be a familiar and strange dish with an attractive, spicy sour taste.
Content is translated using Google Translate, not properly censored, we will try to complete the translation better in the future.
Ingredients
Golden Needle Mushroom
100 gram
Implementation Steps
02
Prepare 1 pan, preheat the pot with 2 tablespoons of cooking oil. When the oil is hot, fry the tomatoes for about 1 minute to soften them.
03
Then, you put the fish balls into the pot, season with 1 spoon of seasoning and 2 tablespoons of fish sauce. Put 3 cups cold water in a pot, boil with 1 tablespoon tamarind sauce prepared.
04
Cook for about 10 minutes, when you see the cooked fish balls, put the kimchi mushrooms in the pot, continue cooking for about 2 minutes. You need to taste again to suit the taste of the family. Now, turn off the heat, set out the bowl to enjoy with hot rice or noodles to add some vegetables to eat will be very delicious.