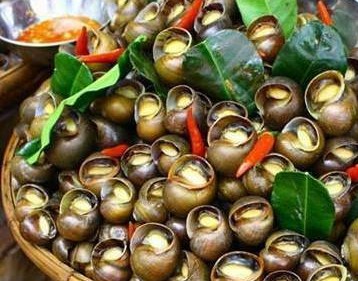 Steamed snail with the best lemongrass
Snails have thin shells, pointed tails and a larger size than the snail. Snail meat contains water, protid so it is good for health. Cooking this treat for the whole family on the weekend is the best
Content is translated using Google Translate, not properly censored, we will try to complete the translation better in the future.
Implementation Steps
01
- Snail: soak for 2 hours, drain the basket. - Red chili peppers: washed, 3 chopped, 4 sliced and 3 left. - Lemongrass: washed, ½ chopped, ½ crushed, cut into small pieces - Lemon leaves: washed individually, selected 5-6 leaves slightly young, finely chopped, leaving the rest intact. - Ginger: Peeled, washed, 2/3 crushed, 1/3 left. - Garlic: Peel and rinse. - Fresh lemon: Get the juice.
02
- For snails in a steamer with 1 spoon of salt and crushed ginger with 4 crushed lime leaves. - When the snail boils for about 2 minutes, turn off the heat.
03
- You prepare another pot, put lemongrass on the bottom of the pot with a few leaves of lemon and then put snails on top of finely chopped peppers. Season with seasoning and salt to taste. - When ripe, snails will smell good