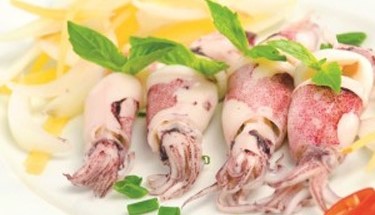 Steamed squid with ginger
This squid will be a delicious dish when processed by steaming with ginger onions to create a pervasive aroma everywhere. You will enjoy the sweetness of squid meat and the scent of ginger mixed together.
Content is translated using Google Translate, not properly censored, we will try to complete the translation better in the future.
Implementation Steps
01
- You should wash the ink with water mixed with white wine to make the ink less fishy. - Cut the squid into circles (or leave the whole body alone) - Marinate the squid with 1 spoon of seasoning seeds, fish sauce, 1/2 spoon of MSG for about 25 minutes to absorb the ink
02
The raw materials washed; - Ginger peeled, divided into 3 parts, 2/3 cut only, 1/3 left intact - Cut green scallions - Horn peppers 3 fruits split in half, seeded, cut into strands, 2 fruits left - Lemon squeezed with water
03
- When the ink has infused spices, mix the squid with ginger, shredded chili, green onions. - Put in steaming water for 10 minutes until the ink is cooked (do not steam too long, you will lose the crispness of the ink) - Put the ink on a plate just fine