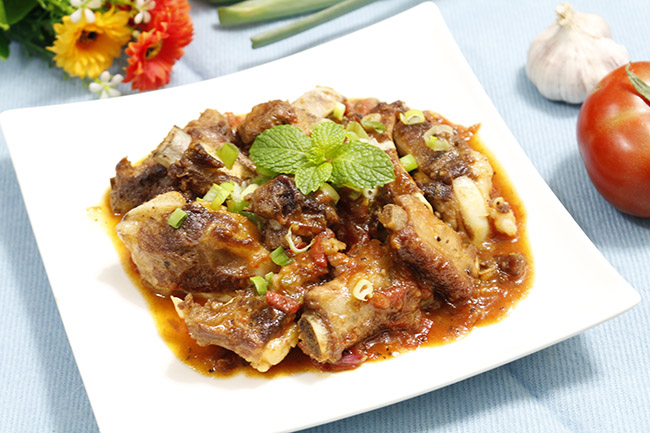 Sweet and sour ribs
Sweet and sour taste, fragrant soft ribs mingled with a thick viscous sauce, just looking at it felt extremely delicious.
Content is translated using Google Translate, not properly censored, we will try to complete the translation better in the future.
Implementation Steps
01
Rinse and blot dry, chop to taste. Pour moderate amount of water into the pot and boil, then put the ribs over for a little while, take out and wash again.
02
Put the ribs in a bowl with a little salt, fish sauce, seasoning, pepper, then stir and marinate the ribs for 20 minutes to infuse spices.
03
Wash tomatoes, cut off the knob and cut into small pieces, chopped garlic + onion, chopped scallions.
04
Place the pan on the stove with 2-3 tablespoons of oil to heat the hot oil, next you pick up the ribs and fry briefly until the sides of the thinly sliced yellow ribs are removed.
05
Remove the oil if the pan is still too much oil, you just leave about 1 teaspoon of oil is then add minced garlic and onion until fragrant, add tomatoes to fry, stir well and stir fry until tomatoes are soft, then add ribs. and.
06
Add sugar to make the sweet and sour taste harmonize, add a little water, stir fry soft ribs and thick sauce, turn off the stove, sprinkle with finely chopped scallions, then scoop sweet and sour ribs into a plate with hot rice, delicious great.