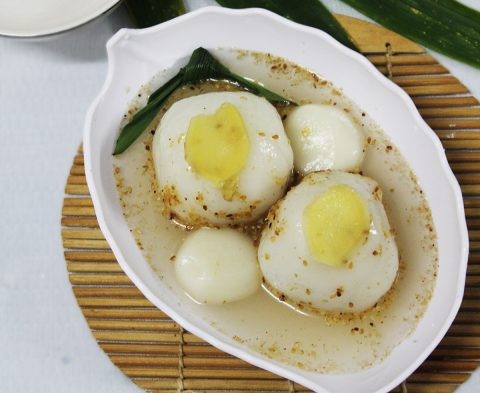 Traditional drifting tea is delicious
Drifting tea is a very popular sweet dish in Vietnam. The street vendors, restaurants, and restaurants all have tea to make desserts or just sweet dishes for those who love Vietnamese tea cuisine.
Content is translated using Google Translate, not properly censored, we will try to complete the translation better in the future.
Ingredients
Thot Not's sugar
200 gram
Implementation Steps
01
When buying green beans, you should soak them thoroughly with cold water thoroughly to filter out all the dust in beans. Then, soak the beans in water for 1 hour before cooking to cook quickly. Picked beans, drain when fully soaked for 1 hour. Prepare a large pot to cook the beans, add 1 teaspoon of salt to the pot to cook together.
03
Making the outer part. Flour you pour out on a flat surface, add some water to stir well for the powder to absorb. Knead the dough continuously until it is no longer sticky and has a certain fineness that stops
04
Divide the dough into small pieces to fit the size of the bean you have created. Press the dough and surround the beans, creating a nice tea ball. Make until all the flour and beans are gone
05
Prepare a pot of water, when boiling water you drop each tea ball to boil until the tea emerges, it is ripe, remove it to put in a bowl of cold water. Cooking ginger water: For about 3 cups of boiling water and then shredded ginger with pandan leaves, add jaggery to the cooking pot until the sugar is completely dissolved. About 5 minutes, you put the tea to cook together, cook another 3 minutes, then turn off the heat. It's done!