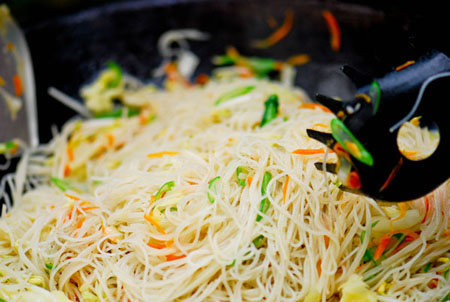 Vegetarian stir-fried vermicelli for full moon day
The full moon days instead of vegetarian dishes with rice, today making this vermicelli stir-fried vermicelli will save you time and ensure the deliciousness that it brings.
Content is translated using Google Translate, not properly censored, we will try to complete the translation better in the future.
Implementation Steps
01
- Wash mustard slices into 2 or 3 slices - Rice noodles boil in water, fished out and mixed 1 tablespoon of nonstick rice vermicelli - Sliced tofu - Peeled carrots, shredded
02
- Put the pan on the stove, put the chopped onions into the pan, when fragrant, add the carrots and stir-fry for about 5 minutes, then stir the bok choy into the pan. - When cabbage and carrots are cooked, add tofu to the island. You taste again with sugar and MSG for less aromatic. - Put noodles and stir fry for 5 minutes, then turn off the heat.