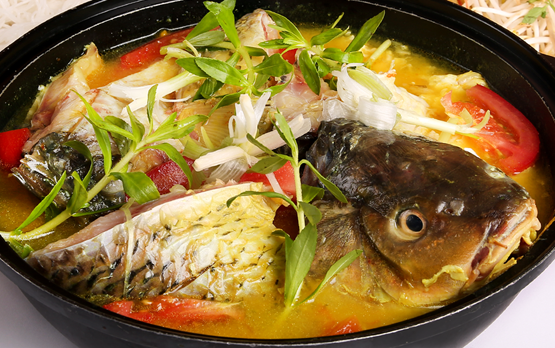 Carp hotpot
On cold days, carp hotpot with a characteristic flavor of delicious and greasy will be the number one choice.
Content is translated using Google Translate, not properly censored, we will try to complete the translation better in the future.
Implementation Steps
01
Rinse the bones and boil briefly boiled water to filter dirt in the bones. Then put the pork bones into a pot to boil for sweet water, remember to remove the bubbles to make the pork bone water more beautiful. Carp washed, scrape off and cut into slices to taste and then marinate with some sliced ginger.
02
Then chopped chili, onion, laksa leaves and put it on a plate. Rinse and drain, tofu into small pieces to taste. Next, catch a pan on the stove and cook the oil on the garlic onion with a little tomato and stir. Then add the tomatoes to the pot of bone broth just cooked.
03
For a pot of broth, sweet and sour, suitable for fish hot pot, you should stew pork bone with fish bones, then add sour tamarind with some mushrooms, tomatoes sauteed with spices to taste.